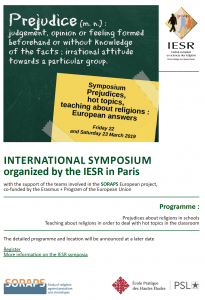 International Symposium organized by IESR in Paris (France) with the support of the teams involved in the SORAPS European project,
co-funded by the Erasmus + Program of the European Union. The main topics will be prejudices about religions in schools, and teaching about religions in order to deal with hot topics in the classroom.
The symposium will be Friday 22 and Saturday 23 March 2019. Check the full programme and complete the registration on the following link: https://www.eventbrite.fr/e/billets-prejuges-questions-vives-enseignement-des-faits-religieux-53862639605
Click on the picture to download the flyer.